Life is a cycle and sooner or later, some couples decide it is the moment to take a step further in their relationship and plan to have a kid together or maybe add a new member to their family. It is a natural process and a moment to celebrate life. That's why it is very important that, as a company, you show you're there to join the joy of your employees when those events happen. From Wordans we want to show you today, a nice way of making your employees feel valued by offering a nice gifting bag full of wonderful ideas for the NewBorns in your office. We have a wide variety of articles aimed to make their little ones happy and comfortable.
The Bag
When you have a baby at home, every time you go outside, you probably need to carry a bunch of stuff to make sure you can respond to their little necessities. It can be tricky to put everything you need in your regular purse, that's why we suggest this big tote bag that will help you carry all you need for your baby. It's also very comfortable to wear and really resistant made of 100% cotton canvas.
Baby Body
Giving baby clothes as a present for the parents it's also very common. It's one of the star gifts when baby showers take place. That's why we think it would be very nice to add this baby body to your NewBorns gifting set. You can print your company logo on it so the parents feel the warm welcome from your company to the new member of the family. We have many colors, so you can go from the classic baby blue or baby pink, to a neutral color such as gray. Get the one that suits you better!
Baby Bib
Feeding a baby, and, especially if you're a new dad or mum, can be a great challenge. Everything gets messy and dirty at the beginning :P. That's why you can create another corporate accessory (that will also come very handy to the parents!) by printing your logo on this baby bib from Royal Apparel. On this occasion you can also choose from different colors as it has many options available.
A Towel
Finally, another nice gift you can offer if you're looking for something more personalized is a towel. It is easy to add your logo on it, as well as the initials of the newborn. It will be the baby's personal towel and for sure his or her parents will much appreciate this thoughtful present. We recommend this towel from carmel towel company as it has beautiful pastel tones that will be a good fit for a baby.
Baby Burp Cloth
Burp Cloths are life savers to any new parents. We know things can get messy and dirty with babies. It's easy for them to throw anything around them… or you! A Burp Cloth you can print your logo on it's a good gift (that will come handy to the parents!). That way the parents will be able to wipe anything that comes their way 🙂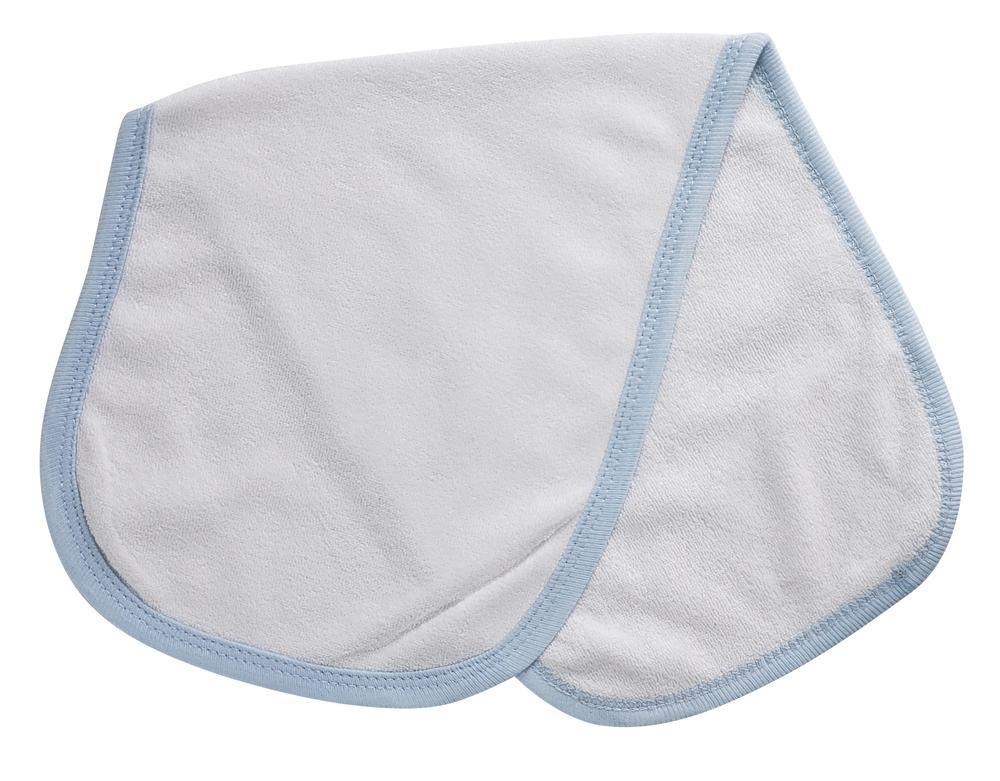 Now you have a nice proposal on how to build the best NewBorns gifting set ever! Your employees will love it, as well as their babies. Add value to your company, add Wordans! Explore our website wordans.com to find a bunch of other options for your company, and visit our Instagram page @wearewordans to get inspiration.