Summer is already here, therefore at Wordans we decided to raise the temperature even more and offer you outstanding summer sales for our blank apparel selection in order to make you succeed in your next summer collection!
In fact, the holiday mood is already on, and most of the people start heading towards the mountains or the sea to get a little escape from daily responsibilities and the heat of the summer in the city.
However, is the summer only for vacations? Definitely not! The cheerfulness of summer is not only holidays, but also the well known summer sales! Indeed, for any business, it's a great opportunity for creators to purchase the right products for their merchandise at a very low price as well as to buy more in advance and therefore, save on the final business costs!
As the temperature rises, the sales at Wordans rise as well, so do not hesitate to discover our special discounts and to visit our website for more amazing products on sale! Don't miss this opportunity to purchase your merchandise up to 70% cheaper! Below, we featured our top 3 products on sale to inspire your next summer collection!
.
Perfect t-shirts for customisation
Looking for a cheap heavy cotton shirt for your company? Discover one of our bestsellers Gildan 5000! A modern garment, with a very versatile design that adapts to a variety of looks. 
This Gildan blank shirt is made from a plain knitted 100% preshrunk fabric. The quality of the materials and the quality of the fabrics are very high, ideal for customisation and printing. For this reason, we want to announce that at Wordans we offer -52% discount for those Gildan t-shirts. Don't miss it out!
.
..


Next Level Women's tank top


Tank tops are one of the must have products to include in your summer collection. For this reason, we recommend the Next Level Women's tank top made of a 60/40 blend of combed ring spun cotton and polyester. It has a tear away label and is fabric laundered. It makes it ideal for customisation so you can easily print your logo or slogan while ensuring the highest quality. With a 67% discount you can enjoy your purchase at the lowest price on the market!

.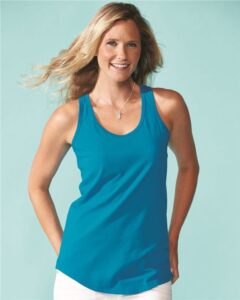 .
 Tote bag to print on
Our customers love tote bags, therefore now you can expect up to 80% on all our bags at Wordans! For this reason, we want to highlight our resistant and customizable Liberty tote bag with summer discount! This shopping bag is fabricated from an optimal 100% cotton canvas fabric, making it perfect for your customers to transport vacation or beach essentials, workout gear, groceries, shopping items, and more! This bag is available in 5 colours. It is perfect for personalization and it can also improve the promotion of your cultural, sporting or professional events. It is available at a super low price with our summer discount, so you can easily order a large quantity for your business at low prices!
.
.
We showed three simple products within our summer sale to incorporate into your collection and start increasing your brand awareness. For more, visit our website www.wordans.com and follow us on our Instagram page @wearewordans.