I tried to sleep this faithful morning, but my niece wouldn't let me; she kept shouting, "It's summer, it's summer, it's summer!" So then I dragged myself out of bed and asked her, "What's the big deal about summer?" Then she rolled her eyes and asked, "You don't know what's exciting about summer?"She said summer sales! Mum will make summer sales, and we'd most likely go on vacation. So then she asked, "How do we create summer sales this year?"
Then it occurred to me that the summer is exhilarating; schools are closed, and parents enjoy spending time with their children by going on vacation or visiting exciting places; lovebirds are not ruled out from the summer fun. Also, clothing business owners are not left to out. Summer is just suitable for everybody.
As a clothing business owner, you should make summer sales by learning how to create the same; every season is essential for doing business and, most importantly, making desired profits. Cool right?
 So how do you create summer sales ideas for your clothing business? We at Wordans strongly believe that you should consider the following;
What to sell: The first thing to think about is what sells during the summer. The question here is, what are the most sought-after products during the summer? It gets even more exciting when you realize that children, men, and women all require clothing during the summer.
Where to get what to sell: The second question is where you get the products. This question is self-explanatory, but you have to consider a reliable source to get the products. It is critical to partner with a trustworthy company if you want to keep making sales and have your buyers trust you—that is where www.wordans.com  comes in best brand, best price.
Sell: Of course, you'd make sales after completing the previous two steps.
Here are products from Wordans that would tickle your clothing business fancy this summer;
Colorful summer crop tops
A fantastic fun fact about crop tops is that women can wear them after summer and various ways. Who goes through the summer without a crop top in their wardrobe? There is no woman. So we recommend this Royal Apparel Tie Dye Crop top from Wordans. This product is peculiar for its wide variety of excellent style/ prize/ quality ratio, Soft and fashionable quality. Check it on our website and feel free to explore other types of crop tops available.  At Wordans, we offer a 60% discount on every buy of this statement-making not-so-basic Cloud Tie Dye crop top. This Crop top has the potential to become the hottest summer product in your store. Check them out! Store owners should not sleep on this offer.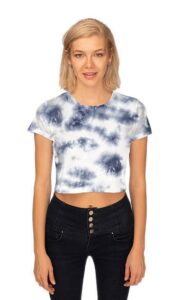 ..


Casual T-shirts to print on


 Vneck T-shirts are easy to put on and take off, saving your customers time and effort. It is necessary to stock your store with the same items this summer. Bella+Canvas V-Neck Jersey T-Shirt , Wordans bestselling men's T-shirt is an excellent option to choose for men in the summer. It is available in various sizes and colors, 100 % cotton textured, soft touch, and a wardrobe focal point for men during summer. It makes a stylish alternative statement, and your customers would love them. This T-Shirt will appeal to men and women of all ages. It is easily customizable and will provide your prints with superior quality and longevity. The version for women is also available. At Wordans, we offer the best price. Good deal, right? What are you waiting for? Check them out!

 
.
Colorful T-shirts for kids
Have you been looking for a colored and stylish children's t-shirt for your store, one that is more durable and has a softer feel? Extremely comfortable and pleasant to wear this summer? The Wordans Colortone Youth Tie-Dye Tee is the answer to your long search,  one of the Summer tees for kids that are simple to put together, a bestseller that comes in different sizes, colors, 100% cotton, and an affordable price on each buy. Get creative with kids' designs to give your store a summer feel. 
.
 Unisex T-shirt for your brand
The best summer product award should go to the Wordans Alstyle Adult Tee. Remember what I said about love birds? The thought of having unisex tees must not be ignored by clothing store owners. So allow your store to have the lovebird feel this summer! Made of 100% cotton and regularly fits in Unisex styling, we sell at an affordable price, colorfull, and excellent lightweight quality! Explore clicking on the photo below.
Wordans will offer the best price, discount, and shipping if required.
In our summer sales, we showed you four sample products to integrate into your collection and increase awareness of your brand. For more information, visit www.wordans.ca and follow us on our Instagram page @wearewordans. In addition, you can submit a bulk request via the website.
.