The urgency that comes with children's needs causes no parent to deny them anything good. Back to school essentials can be compared to a child's birthright, and we are confident that most people can attest to that.
Children's needs are always prioritised in the eyes of parents or guardians; this has been the case since time immemorial and is unlikely to change anytime soon. We're sure you remember how you drilled your parent/guardian for back-to-school essentials, and if that has eluded you, we know you recognise how your children have been hitting you in preparation for resumption.
Why not save your customers the stress of having to look for high-quality items at rock-bottom prices by partnering with Wordans for your back to school essentials for children?
We pitch for business owners to make sales throughout the year, which is made possible by taking full advantage of each season. So take advantage of this season and sell bounty items.
See the following Wordans products that will pique your business's interest;
Next Level 3/4 Sleeve Raglan for children
A multifunctional t-shirt is a must-have for every child; the number of activities children participate in at school cannot be overstated. The Wordans' Next Level – Youth CVC 3/4 Sleeve Raglan is a perfect match; it is made of 60% combed ring-spun cotton/40% polyester, making it breathable and versatile for kids. The same can be customized for personalization, and we all know how much kids enjoy having their items personalized.  This beauty is available in various sizes ranging from XS to XL and multiple colors to suit both sexes. One-piece prices start at $3.92, and we offer free shipping on orders over $69! This value is also available for wholesale purchases. This deal is for you.
Plain T-shirt for children
Plain Tee is another Back to School essential that every child should have in their wardrobe. The Gildan – Softstyle Youth Tee is perfect for this time of year, especially now that summer is over and fall has arrived. The short-sleeved t-shirt is made of 100 percent cotton and is available in various sizes ranging from XS to XL and appealing colors. The label is a Tearaway label, which is easily customizable. A single piece costs $2.90, and we offer free shipping on orders over $69! So now is your chance to shine.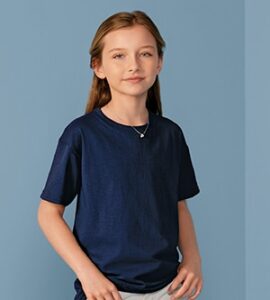 Sweat Shirt for Kids
What do you think about a sweatshirt that keeps your customers warm? Yes, of course. The Hanes – EcoSmart® Youth Sweatshirt by Wordans is a valuable asset that provides a good return on investment. It is a fashion accessory that can be worn all year long, except in the summer; pair this sweatshirt with matching sweatpants for gym class or jeans for a cool winter look; all that is required is the appropriate styling for each season. It is made of a high-quality cotton-polyester blend, comes in various appealing colors, and is available in sizes XS to XL for children. We offer free shipping on orders of $99 or more! A single piece costs as little as $4.31. Isn't that a fantastic deal?
The products listed above are not only good for business, but they are also suitable for children. We have all of the back-to-school essentials for children that you can take advantage of during this period, and we currently offer free shipping on orders over £149! and the wholesales deal is fantastic. For more information, please visit www.wordans.com, or follow us on Instagram @wearewordans. You can also place bulk orders at www.wordans.com/bulk_orders   and buy custom-made clothing at www.wordans.com/display/custom.